Getting the perfect electric bike for elderly people is a great way to engage yourself or others in physical activity.
Staying active when the years start taking their toll on the body is one of the best preventative measures you can take.
As we get older our bodies don't function and move as well as they used to. This can result in difficulty for many trying to use normal bikes.
The amount of effort required to pedal can be too much for some. Certainly, the hills can take their toll.
Coupled with the fact that cycling is a very low impact form of exercise, you're on to a winner!
Join us as we delve into the why electric bikes for elderly is such a good idea!
Why Electric Bikes For Elderly?
Electric bikes are a fantastic invention. They allow us to go much faster and farther than we thought possible on our own human power.
For those of us who are possibly less athletic, injured or unable to ride a normal bike. Electric bikes replace some of the need to use all our power to pedal. We can simply increase our assist levels and receive great boosts of energy from an electric motor.
I've read countless stories that go a little something like this;
Billy-Bob is in his sixties. He used to love riding his bike, until the day where he had a heart attack.
Fortunately, Billy-Bob recovered after a successful operation but has been told by his doctor that he isn't to undertake strenuous exercise.
Billy-Bob wants to recover and wanted to get exercise too. He remembered his love for bikes and discovered ebikes!
With his new ebike, Billy-Bob was able to exercise for a few hours a day, and not put his recovering heart under too much stress.
Billy-Bob now loves cycling every day, meeting new people, experiencing the slower side of the bike lane.
These stories are fantastic to hear, and really open your eyes to the other possibilities that ebikes allow people.
Ebike Designs For Elderly
The design of the ebike is arguably one of the most important criteria to get right for an elderly rider.
After my insightful interview with Nathan, I've come to realise just how important this step can be.
I personally have a mountain bike fitted with a BBSHD. But my bike has a top bar (or top tube) which means you have to swing your leg up quite high to get on.
Swinging your leg around may not be possible for older or injured ebike owners.
Enter the step through!
Step-Through Bike
A step-through bike does as its name says.
It allows you to step through the frame, as it comes without a top bar.
This is a fantastic alternative for those who can't clamber over the top of a traditional bike.
Elderly people may find a step through exactly what they need to get back onto a bike again.
When it's so easy to get on and off, with the awesome assistance of an electric motor, and the cost savings associated with it. It's hard to say no!
The step-through bike is also closely related to the folding bike.
Folding Bike
The folding bike is similar to a step-through bike as it has no top bar.
However, a folding bike does something unique.
It folds in half.
Who's ever seen a bike fold in half?!
It's insane!
But it's also an insanely awesome way to save room.
Whether you're trying to store your bike in a small house, take it up the elevator to your office or even taking it on the bus with you. The folding bike is indispensable for space saving and convenience.
If you're wanting to go to the other side of town, instead of taking a car, or public transport the whole way. Simply take your folding bike.
Maybe biking to the other side of town and back is too much, even with an ebike. But say halfway there is alright, and then you can take your bike with you on the bus!
Endless opportunities arise with functional investments like folding bikes.
A completely different direction you could go would be the trike!
Trikes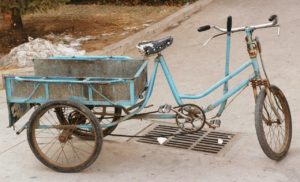 Trikes are a totally different breed of bike.
They have three wheels!
An extra wheel makes for some quick and easy riding.
In general, trikes have a more relaxed seating position, making it easier than an upright position, or racing position.
Trikes generally have or have room to install, a cargo basket of some sort.
A basket makes trikes indispensable for carrying the weekly groceries or getting errands done around town.
For an older person who may have difficulty with their balance, an electric trike is exactly what they need to get riding again.
An electric motor makes the hills terribly easy, and the long distances seem short too!
So maybe a more relaxed trike is needed for the elderly person in your life?
What Are Some Recommendations?
Step-Through
My top recommendation for a step-through ebike is the Blix Vika+. I have a full review you can check out!
There is no doubt in my mind that this ebike is perfect for those on the older side of life. (I'm trying to find the nicest way possible to say this, please don't hate me).
It comes with a powerful 350W rear hub motor, a step-through design and a rear rack. You can easily attach pannier bags to make it useful for all kinds of errands around town.
It gets up to 18mph (29kmh) and has a range of 35mi with the smallest battery.
Plus free shipping anywhere in mainland USA. Also if you use my coupon code "HowTo100" you'll get $100 off your bike purchase!
Trikes
A trike recommendation comes in the form of the Bistro Electric Trike!
It comes preinstalled with a handy wire basket at the back. Carrying everything you need has never been so easy!
It's fitted with a respectable 700W motor, and an impressive 52v, 11Ah battery. That gives you 572Wh!
(Check out my article explaining ebike batteries if you're confused about those battery figures!)
You're going to be able to haul huge loads uphill with ease on this bad boy!
Mudguards and LED lights come standard, making for an excellent trip no matter the time or weather!
Or maybe you're after something with a little more carrying capacity.
(Look, if you carry bricks around everywhere, that's cool, and this next trike has the room to do it!)
The eWheels EW-29
 has a front and back basket.
Food in the front to nibble on, bricks in the back? Or maybe a dog in the back?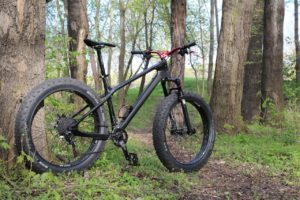 Lastly, let's say you're after a bike with some flair.
Some style.
Substance.
Pizzaz.
Or another adjective that takes your fancy.
Then the Addmotor Motan Fat Tire
 is for you (or someone else with flair and style. I don't judge!)
With huge fat bike tires on 20″ wheels, a low frame and extra awesome coloured accents. This bike is for the serious rider.
If you're wanting some gentle off-road action. For those who can't pedal as hard as they used to be able to.
But if off-road is where the elderly person in your life feels most alive, then this might be the answer they're after!
With a 500W rear hub motor will deliver enough power to make you corrupt.
And a 10.4Ah battery will be perfect for those long countryside trips.
So An Electric Bike For Elderly People? Final Thoughts
Electric bikes aren't just for speed freaks and the kids of today.
They're for anyone and everyone.
Electric bikes are especially useful for the elderly, the older people who might not be able to ride a traditional bike.
The amount of effort required to pedal is demanding. Certainly uphill is a struggle.
Ebikes allow for varying amounts of stress and exercise when riding.
A truly low impact exercise for those recovering from injury.
For those who can't get on a traditional bike because of injury, ebikes also come in many styles. Allowing for the perfect fit for the rider.
From folding bikes and step through bikes to trikes and recumbents. There's an ebike to suit every style and every need.
Once you have your ebike, don't forget to spice it up with some sweet accessories!
So what's stopping you from getting on to an ebike now?
Spread the word about ebikes: