Let's be honest. If you want to take your kids anywhere on your bike, you probably don't want to be holding them. Unless you like dropping your kids. But I don't think you're that type of person! You're going to need the best bike trailer for kids.
So what do you need, if you want to bring your kids with you? A large bag? A toboggan? Maybe a backpack?
If you got excited about any of those options, damn that's hilarious.
But if you didn't and you want to know the real answer…
A bike trailer. Specifically you're going to want the best bike trailer for kids. Because there's a lot of bike trailers for other junk, but your kids aren't just random junk!


What's A Bike Trailer You Ask?
It's simple. A bike trailer is a little piece of awesome that attaches to the rear of your bike (or ebike) and allows you to take a passenger with you. Most importantly, it allows you to take a little passenger without dropping them (as I weirdly said before).
They look a little like this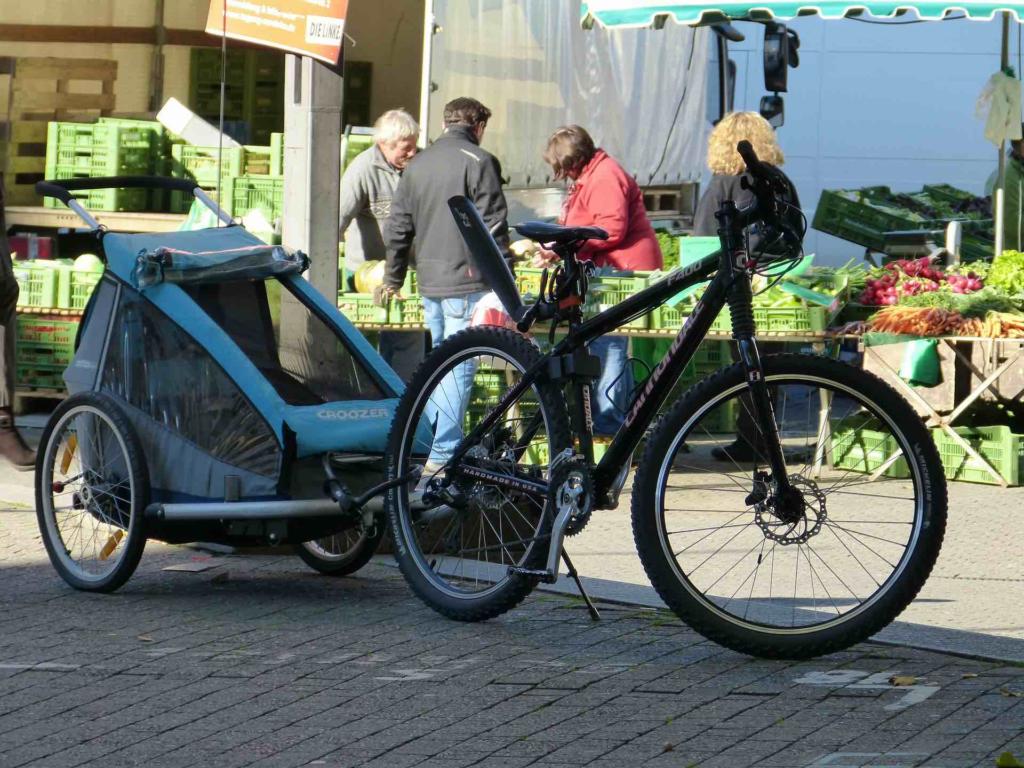 Will It Make It Any Harder To Ride?
In general, no. Even on a normal bike with no electric motor you are going to have no issues biking around with a trailer. As all the best bike trailers are lightweight and move freely and easily.
Certainly, it's going to depend on your cycling skill. If you're used to cycling around a lot, and won't be going up large hills, it's going to be 100% fine. Even if you're not an avid cyclist, and want to take the kids. Using a bike trailer on flat or moderate routes should also be fine.
If you're an ebike owner, you're going to have NO worries whatsoever with a bike trailer. In fact, I'd be more cautious about going too fast. Because you'll have some precious cargo on the back of your bike. Keep it slow and stable, especially around other people and traffic.

I Have Young Kids, Can They Use It?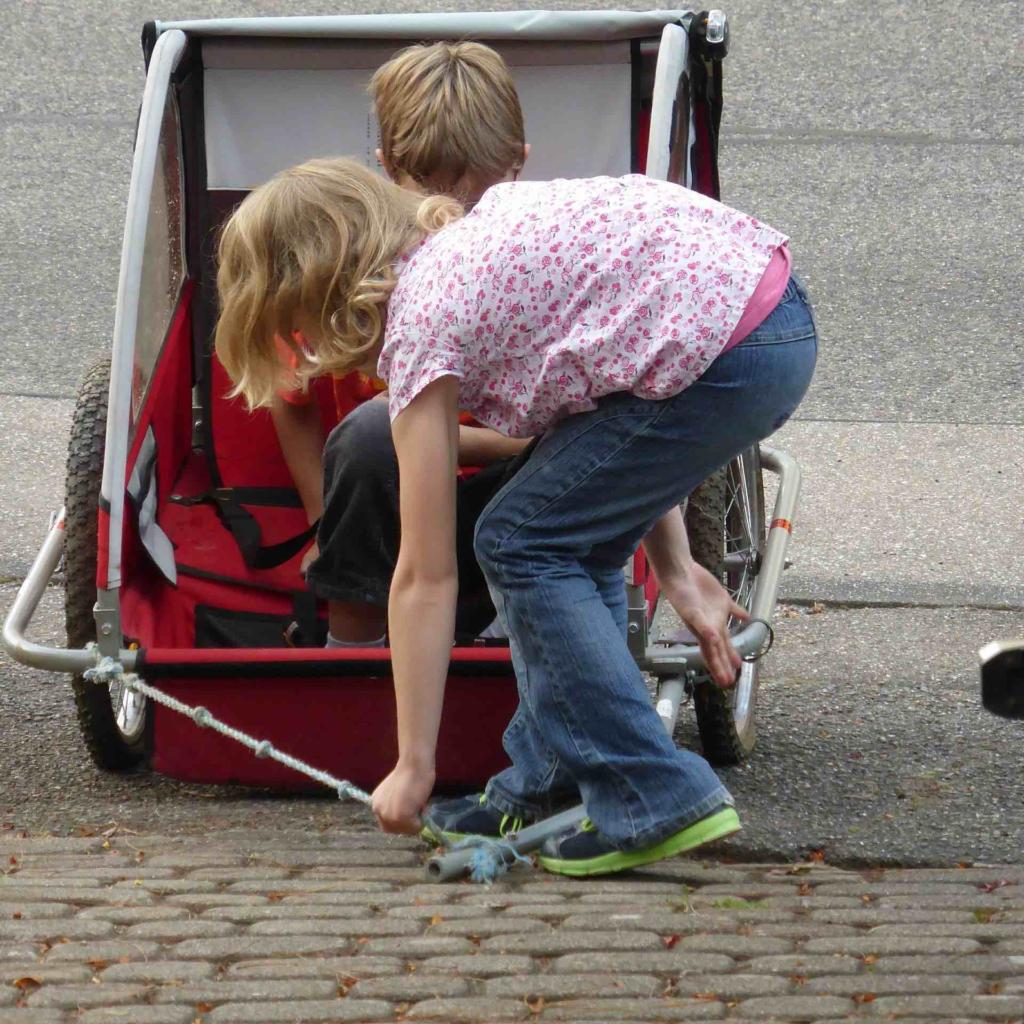 Chances are, yes!
These bike trailers are designed for carrying kids, and so they have a great age range to start using them.
For some of these trailers, the manufacturer also make infant slings. So your child from as young as 1 month could use it. I have heard of happy families using these bike trailers with their 3 month and 1 year old side by side with no worries!
So don't be worried about them being too young (plus they can always grow into it, and love going out for a bike!)


Are They Safe?
They're as safe as YOU make them! A good quality bike trailer will be safe to take your kids in, but where you ride determines how safe it really is. If you're on the road with other traffic, it's certainly something to be wary of. I would usually prefer taking quieter, bike only or shared walking/riding areas.
In terms of safety when attached to the bike if you were to fall over. Most bike trailers are able to rotate where they are attached, so you won't tip the trailer if the bike were to fall over. This is super helpful and safe for your kids in the back! They get to laugh while you fall over, and they stay upright in style!
It's a win-win right?


Okay, But Are They Useful For Anything Else?
Hey, good question. And absolutely they are!
Even though these are the best bike trailers for kids, these can also be bike trailers for general cargo needs. Putting the groceries in the trailer after a quick shop, and you can be on your way home.
I mean, you probably won't fit the kids and a full load of groceries in, but at least you can have kids OR groceries! Also just about anything you can imagine that could fit in would work. Pets, or random junk you need to take around works too.

A Word Of Caution!
We know bike trailers are awesome! But you need to keep your little ones safe.
In general you should be using a supporter for your very youngest. This should be attached firmly to. the bike trailer. But not only that, you should also be popping helmets on their heads too! This is the ultimate safety feature.
Keep in mind, you don't want to use an aero shaped helmet. As this can be uncomfortable for their necks. You also want to stay away from those very heavy helmets and this is also not good.
Find something in between and you will be sorted!


The Options You Want To Go For
There's only really three bike trailers for kids that I can recommend. You have your high end, very fancy bike trailer. An in between great all rounder and affordable bike trailer. And lastly your budget friendly, but suitable bike trailer.


Budget Friendly: Aosom Elite II
The Aosom Elite II is a powerhouse for the price.
Equipped with some of the best features you need in a kids bike trailer. Integrated reflectors, a safety flag, weatherproof cover, two child seats with seatbelts and multiple uses.
It comes with a swivel wheel at the front for either strolling or using on your bike. Supports up to 88lbs, and has a little room for belongings at the very back.

Great Features & Affordable: Burley Bee
If you know much about bike trailers, you've probably heard about Burley Designs. They're very well known and have great quality and affordable bike trailers. The Burley Bee is no exception.
With integrated rear reflectors for safety. A super easy attachment to your bike. Room for two kids who should ideally not fight when sitting beside each other. Or alternatively, lots of room for your extra luggage! It has ventilation and all-weather covers for those rainy rides.
And to top it all off, a carrying capacity of 100lbs (45kg)!
Best of all, it's suitably priced for it's quality!

Top Of The Line: Thule Chariot
If you want, no. If you NEED the best of the best, you have found it.
The Thule Chariot is one of the best bike trailers for kids that you can get. But best of all, it's not only useful for the kids.
It combines a huge rear cargo area. A solid build quality. Tremendous uses, including easy swapping between a bike trailer, jogger and stroller. Strong suspension to keep the ride comfortable for the kids. And also individually reclining chairs, so if one of the wee ones needs to take a nap, just simply lay them back by adjusting their chair.
It's all too easy with the Thule Chariot.
Now you can purchase a one seater if you need. But think of all that extra space you're going to lose for the groceries, and carrying timber…?

The Best Bike Trailer For Kids Then?
No kidding, there's a lot of variety out there. Especially if you go off searching around the internet. Luckily, you've got me! I've done the hard yards figuring out exactly what is the best bike trailer for kids.
Overall, I think the best bet for a fantastic bike trailer is the Burley Design Bee. It has everything you need, and nothing too extra fancy that you don't. Not to mention it's super affordable!
So while you could get away with the Aosom, I would only recommend it if you're on a tight budget.
So what are you waiting for? Permission?
You have my permission to grab the Burley Bee below and take your kids, pets or cargo on the ride of their lives!
Spread the word about ebikes: