Looking to grab yourself the COOLEST mid drive ebike motor huh? So of course you're reading a Bafang BBSHD review to see if it's really what you think it is?
Good call.
---
Hey, look, you can get the BBSHD right here!
---
I'll tell ya.
It's worth it. It's everything you've ever wanted. And more!
This mid drive motor is made by Bafang, and often distributed as an "8fun" motor. They're the same thing.
It's a 1000w rated nominal power motor. That means it can continuously put out 1000W and work flawlessly forever.
The motor will peak at a higher wattage output when you hit the throttle. It can peak around 1500W!
It's the successor to the hugely popular BBS02. The 750W, more petite version.
One of the best parts about the BBSHD is that it fits almost every bike frame.
The BBSHD simply fits through your existing bottom bracket. It comes with 68-73mm, 100mm and 120mm sizes.
So you can even put the BBSHD on your fat bike! This makes it insane for offroad, sand and snow applications.
So if you have a current bike, it's likely that you can fit a BBSHD very easily.
You've only got to get yourself the motor and a battery. Then it's all plug and play!
Installation
Installing the BBSHD is very easy, even if you've done very little bike mechanics.
The kit comes with:
The motor (including integrated pedal assist sensor)
2x eBrake levers
LCD display
All cables
46 tooth chainring
Both cranks
Thumb throttle
Speed sensor
All required screws, bolts and nuts
So you have everything you need to get it installed, right in the box.
To install, all you need to do is remove your cranks, sprockets and unscrew your bottom bracket inserts.
To remove your cranks, you will need a crank puller. Seriously, get a crank puller or borrow one. I tried to get them off without it, and it's not worth trying. You'll probably break something.
Followed by sliding the BBSHD right through the bottom bracket, adding 3 nuts to the motor. One nut hold the motor upright. The next one holds the previous nut in place so the motor cannot slip down. This nut needs to be tightened as hard as you can – Bafang also sell a tool to do this, but I found that an adjustable wrench also worked.
The last nut is to stop anything from undoing itself. This is only aluminium, so don't tighten too hard or you'll strip the threads.
Next it's just wiring up the battery and the ebrakes, display and speed sensor.
Some of the parts however, are less than ideal.
Most notably is the stock 46 tooth chainring.
Bafang really didn't care about how their chainring performed in the wild.
It's utterly terrible and I wouldn't wish it upon my worst enemy.
Now don't get me wrong, it "works", but not well.
I've found that if you go over any bumpy surfaces without putting the chain under tension, it derails.
In my experience, "any bumpy surfaces" includes tree roots, cracked sidewalks and going over curbs.
I've had days where I had to put my chain back on every 5 minutes.
Please don't torture yourself like I did. Get a Lekkie Bling Ring HD as part of your build. It has narrow/wide teeth to stop the chain coming off. And it does a damn good job of it too.
It's such a worthwhile investment. You'll never look back!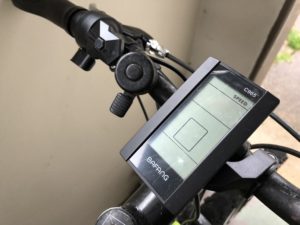 Build Quality
The BSSHD is one huge beast. It weighs in at just under 13lbs (5.9kg).
It sports a huge array of beefy cooling fins around the motor casing. Making this thing almost impossible to overheat.
I've never had an issue with it. Even climbing 10-15 degree slopes at 13mph (21kmh) it's never gotten too hot.
Bafang have over-engineered this beast to handle absolutely everything you could ever throw at it.
The motor is built to take much more than the 30A that it is limited to. In fact, Luna Cycle sell controllers that can handle 60A and up to 72V like this one here!
That will rock your socks off. Big time.
But for the rest of us who just want to plug and play with the BBSHD. You're also in for a treat.
With a continuous amp rating of 30A and a peak of around 40A on the stock controller, you should be able to power along with 2352W on a freshly charged 52V battery – hot damn!
If you swapped out the stock controller with Luna Cycle's one, with 60A and a fresh 52V battery – 3528W could be your peak output!
That's enough juice to make a smoothie.
And probably to give you a wheelie and a sweet concussion.
Your mileage may vary.
In any case, this thing is a damn beast and you're going to have fun on it.
I only have the stock controller and I'm still loving it!
The BBSHD also has IP65 enclosure rating which translates to completely dust proof, and waterproof from low pressure water jets from any direction. So it's water resistant for outdoor use. But don't use your BBSHD for submarine applications.
All of the connectors are waterproof also. They give a satisfying popping noise when you unplug them.
So if you enjoy riding in the rain, or snow, or sand, or anything that makes biking really fun. Then you're going to find the BBSHD a great companion, because you won't be able to kill it with sand and water.
Unless you sandblast it. That might kill it. Feel free to test it and let me know your findings.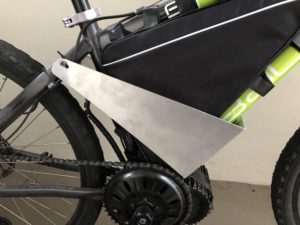 How It Rides
This thing rides awesomely. With a few caution areas.
My main gripe with this motor is the pedal assist (PAS).
I knew what I was getting into when I bought it. And it's not all bad! But it does take some getting used to.
If you've ever ridden a bicycle, and I'm sure you have, you'll know what it feels like to pedal.
You know, you apply pressure in a rotating motion and you feel resistance of all the parts working. Yeah, that's the one.
Well it's different with pedal assist from the BBSHD. Pedal assist is where the motor knows you're pedalling and gives you a little help in the form of electrical power!
You'd think that as you pedal, you feel resistance and you get a little help.
Not quite.
You have a range of pedal assist levels. It can be 0-3, 0-5 or 0-9. I recommend 0-9 for more fine tuned control.
If you start pedalling, the BBSHD gives power up to a certain threshold which is determined by the PAS level.
PAS 9 will give you almost full power of the motor as soon as you start turning the cranks.
So as soon as you're pedalling, you're speeding off!
In my 1st gear and PAS 9, I start pedalling and get to about 20mph (32kmh) without actually putting in any effort. The motor does all the work.
I can get up to 40mph (65kmh) in 8th gear, full throttle and some pedalling too. Way too sketchy for my liking to do all the time, but fun on occasion. Plus this is using my knobbly mountain bike tyres. If you try this on a road bike, you'll be going quick enough to outrun a cheetah!
This can feel a little unnatural to someone who is used to riding normal bikes. As the motor spins the front chainring faster than you can comfortably pedal (usually). So you'll be spinning the cranks, but your energy doesn't really do anything. At all.
This is good news for those who want to commute to work without getting sweaty! I often just use PAS 9 when in my work outfit and turn up to the office without any stinky, sweaty clothes on.
Alternatively you can lower the PAS level to find where you can comfortably pedal and have decent speed. I like the speed too much, so I almost always use PAS 9 or full throttle.
That's the other thing too! You can simply use the throttle and not pedal at all. You get great looks when you're not pedalling and cruising uphill at 13mph (21kmh).
Where To Get One?
There's a few places you can grab yourself a BBSHD.
You can grab a BBSHD online
. (This is where I ordered mine!)
Or alternatively you can order one from a seller such as LunaCycle.
Online is your best bet if you're outside the U.S.
However, some local stores in your area may carry the Bafang BBSHD too. So it pays to ask around!
Bafang BBSHD Review: The Verdict
The Bafang BBSHD is one hell of a step up from the BBS02 of yesterday (metaphorically).
It's beefy enough to handle steep inclines. It has upgradability potential. It comes with everything you need. Apart from that stupid chainring – get a new one!
You can pair up this bad boy with a 48V or 52V battery with the stock controller. If you like power, you can upgrade your controller and get a 72V battery to really up the ante. And the risk of injury and/or death. Probably.
If you're looking for an ebike battery, check out my guide here.
It can handle hills with ease and glide effortlessly and quickly across the flat.
If you need more convincing about the BBSHD, check out some videos about it. You won't be disappointed.
I'll see you cruising around town on your new BBSHD.
Ride fast and arrive in style.
Spread the word about ebikes: